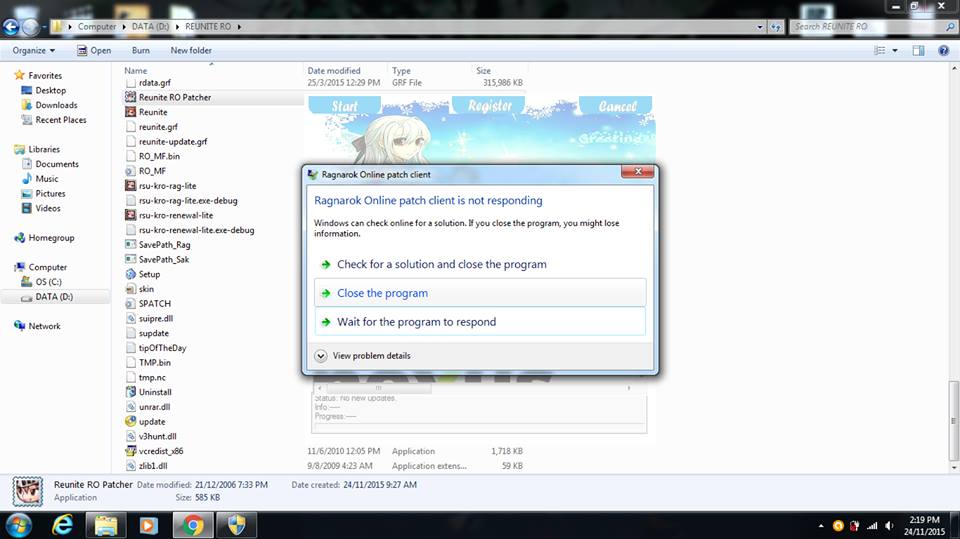 Reunite RO Installation Tutorial
This tutorial will helps you on how to install Reunite Ragnarok Online.
Download Reunite Ragnarok Online Full Client + Patch client (Since our full client didnt include latest patch client.
KRO 2016 : http://www.mediafire.com/download/v5dej41fgok7vra/20160113.rar
Patch Client :https://www.mediafire.com/?dqt2twso08e5t42
Extract Full Client and Patch Client. Paste Patch client inside Full client and make sure you merge, overwrite and replace all files.

Run Setup.exe and setup your graphics setting, screen size and etc. Dont tick Full Sreen Mode.

Run Reunite RO Patcher.exe and wait until patch is complete and Start Game. Enjoy in Reunite RO!

You should can play Reunite RO now. But, there might be some issues depends on what machine you are used. Below are the problems that you may encounter :
If you have any problems, you can directly PM me at admin@reunite-ro.com or Whatsapp 0177860670 or you can PM me via Facebook https://www.facebook.com/amirazman92
Dont forget to join our community group here : facebook.com/groups/ReUniteRagnarokOnline