Like And Share Events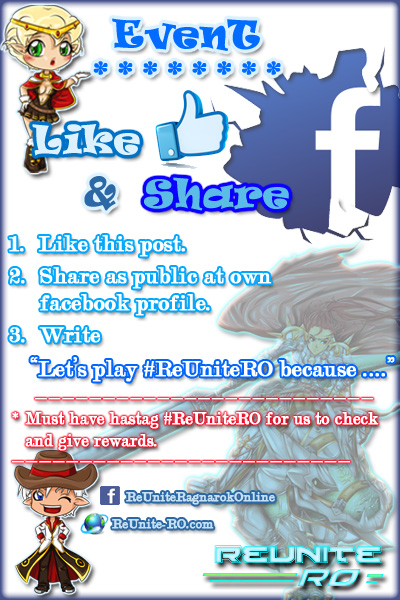 Yeah Reunite Ragnarok online is growing up in Reborn Server and for now, we are going to find our old mates back and join us ! Newborn are welcome too !
The term and conditions are easy :
Like this post : https://fb.com/ReUniteRagnarokOnline/photos/a.330540650372888.76634.323015414458745/925140054246275/?type=3
Share as PUBLIC at your own profile and write "Lets Play #ReuniteRO because…."
Everyone join will received your rewards 21 December 2015 at least. The most CREATIVE reason will win exclusive prizes!
We need you to use #ReuniteRO hashtag in Like and Share Events so that we can find your post easily. Every players can join this event. This events only available from 15 December 2015 until 20 December 2015.
If you having problems to install Reunite RO , you can check our tutorial here : http://reunite-ro.com/reunite-ro-installation-tutorial/
Hope to see you ingame guys and our latest hardworks, get ready for Christmas Eve events ! Starting 15 December 2015 there will be so many exciting events with numerous number of rewards ! Come and join us before its too late !